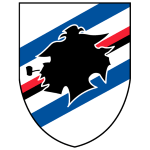 Italy
Sampdoria
Coach: C. Ranieri
Venue: Stadio Comunale Luigi Ferraris
Sampdoria Full Squad
Goalkeepers
Midfielders
Defenders
Forwards
Sampdoria Overview
What is the next fixture for Sampdoria?
Sampdoria is managed by C. Ranieri and play their home games at Stadio Comunale Luigi Ferraris.
Sampdoria Squad for the current season is:
Goalkeepers: Emil Audero Mulyadi, Wladimiro Falcone, Matteo Raspa, Andrea Seculin, Lorenzo Avogadri
Defenders: Julian Chabot, Omar Colley, José Rodolfo Pires Ribeiro, Bartosz Bereszyński, Alex Ferrari, Nicola Murru, Kaique Rocha Lima, Tommaso Augello, Lorenzo Tonelli, Maya Yoshida, Lorenco Šimić
Midfielders: Ronaldo Vieira Nan, Albin Ekdal, Karol Linetty, Gastón Exequiel Ramírez Pereyra, Fabio Depaoli, Jakub Jankto, Morten Thorsby, Mehdi Pascal Marcel Léris, Andrea Bertolacci, Kristoffer Askildsen, Gonzalo Maroni
Attackers: Federico Bonazzoli, Manolo Gabbiadini, Fabio Quagliarella, Felice D'Amico, Antonino La Gumina
Read More...
Serie A 2019/2020
P
W
D
L
Goals
Last 5
Pts

1

Juventus

38
26
5
7
76 : 43
83

2

Inter

38
24
10
4
81 : 36
82

3

Atalanta

38
23
9
6
98 : 48
78

4

Lazio

38
24
6
8
79 : 42
78

5

Roma

38
21
7
10
77 : 51
70

6

Milan

38
19
9
10
63 : 46
66

7

Napoli

38
18
8
12
61 : 50
62

8

Sassuolo

38
14
9
15
69 : 63
51

9

Fiorentina

38
12
13
13
51 : 48
49

10

Parma

38
14
7
17
56 : 57
49

11

Hellas Verona

38
12
13
13
47 : 51
49

12

Bologna

38
12
11
15
52 : 65
47

13

Cagliari

38
11
12
15
52 : 56
45

14

Udinese

38
12
9
17
37 : 51
45

15

Sampdoria

38
12
6
20
48 : 65
42

16

Torino

38
11
7
20
46 : 68
40

17

Genoa

38
10
9
19
47 : 73
39

18

Lecce

38
9
8
21
52 : 85
35

19

Brescia

38
6
7
25
35 : 79
25

20

SPAL

38
5
5
28
27 : 77
20
P
W
D
L
Goals
Last 5
Pts

1

Juventus

19
16
2
1
46 : 17
50

2

Lazio

19
14
3
2
46 : 17
45

3

Inter

19
11
6
2
40 : 17
39

4

Atalanta

19
12
2
5
51 : 26
38

5

Roma

19
10
4
5
36 : 27
34

6

Milan

19
9
6
4
31 : 20
33

7

Napoli

19
10
3
6
31 : 24
33

8

Hellas Verona

19
9
5
5
29 : 25
32

9

Sassuolo

19
8
3
8
44 : 33
27

10

Cagliari

19
7
4
8
32 : 28
25

11

Torino

19
7
4
8
23 : 30
25

12

Udinese

19
6
6
7
18 : 23
24

13

Parma

19
7
2
10
26 : 24
23

14

Fiorentina

19
5
8
6
22 : 22
23

15

Bologna

19
5
8
6
25 : 29
23

16

Sampdoria

19
6
4
9
25 : 30
22

17

Genoa

19
7
1
11
24 : 31
22

18

Lecce

19
4
5
10
30 : 41
17

19

Brescia

19
3
5
11
21 : 34
14

20

SPAL

19
2
4
13
16 : 40
10
P
W
D
L
Goals
Last 5
Pts

1

Inter

19
13
4
2
41 : 19
43

2

Atalanta

19
11
7
1
47 : 22
40

3

Roma

19
11
3
5
41 : 24
36

4

Lazio

19
10
3
6
33 : 25
33

5

Milan

19
10
3
6
32 : 26
33

6

Juventus

19
10
3
6
30 : 26
33

7

Napoli

19
8
5
6
30 : 26
29

8

Fiorentina

19
7
5
7
29 : 26
26

9

Parma

19
7
5
7
30 : 33
26

10

Sassuolo

19
6
6
7
25 : 30
24

11

Bologna

19
7
3
9
27 : 36
24

12

Udinese

19
6
3
10
19 : 28
21

13

Cagliari

19
4
8
7
20 : 28
20

14

Sampdoria

19
6
2
11
23 : 35
20

15

Lecce

19
5
3
11
22 : 44
18

16

Hellas Verona

19
3
8
8
18 : 26
17

17

Genoa

19
3
8
8
23 : 42
17

18

Torino

19
4
3
12
23 : 38
15

19

Brescia

19
3
2
14
14 : 45
11

20

SPAL

19
3
1
15
11 : 37
10