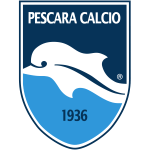 Italy
Pescara
Coach: A. Sottil
Venue: Stadio Adriatico-Giovanni Cornacchia
07 Aug 2020, 19:00
Pescara vs Perugia
Location: Pescara
Venue: Stadio Adriatico-Giovanni Cornacchia
Referee: TBA
Pescara Full Squad
Goalkeepers
Midfielders
Defenders
Forwards
Pescara Overview
What is the next fixture for Pescara?
Pescara is managed by A. Sottil and play their home games at Stadio Adriatico-Giovanni Cornacchia.
Pescara will play their next fixture against Perugia. Pescara vs Perugia will be played on 07 Aug 2020, 19:00 at Stadio Adriatico-Giovanni Cornacchia. You can follow this match live on SportsPlus.Me and check the live score, statistics and match comments as it happens.
We also provide live streaming links for Pescara vs Perugia, if the match will available in the official live schedule. All that information can be found on the match page.
Pescara Squad for the current season is:
Goalkeepers: Vincenzo Fiorillo, Simone Farelli, Alessandro Sorrentino
Defenders: Hugo Armando Campagnaro, Cristiano Del Grosso, Gennaro Scognamiglio, Edgar Joel Elizalde Ferreira, Antonio Balzano, Stefano Palmucci, Mirko Drudi, Luca Crecco, Gabriele Zappa, Andrea Marafini, Edoardo Masciangelo, Alessandro Martella, Cristian Ventola
Midfielders: Alessandro Bruno, Ledian Memushaj, Ibrahima Mane, Amadou Diambo, Massimiliano Busellato, Filippo Melegoni, Grigoris Kastanos, Frank Kanoute
Attackers: Cristian Galano, Riccardo Maniero, Andrea Di Grazia, Gennaro Borrelli, Milos Bocic, Valeri Emilov Bozhinov, Nicolas Alexis Anthony Belloni
Read More...
Serie B 2019/2020
P
W
D
L
Goals
Last 5
Pts

1

Benevento

38
26
8
4
67 : 27
86

2

Crotone

38
20
8
10
63 : 40
68

3

Spezia

38
17
10
11
54 : 40
61

4

Pordenone

38
16
10
12
48 : 46
58

5

Cittadella

38
17
7
14
49 : 49
58

6

Chievo

38
14
14
10
48 : 38
56

7

Pisa

38
14
12
12
49 : 45
54

8

Frosinone

38
14
12
12
41 : 38
54

9

Empoli

38
14
12
12
47 : 48
54

10

Salernitana

38
14
10
14
53 : 50
52

11

Venezia

38
12
14
12
37 : 40
50

12

Cremonese

38
12
13
13
42 : 43
49

13

Virtus Entella

38
12
12
14
46 : 50
48

14

Cosenza

38
12
10
16
50 : 49
46

15

Ascoli

38
13
7
18
50 : 58
46

16

Trapani

38
11
13
14
48 : 60
46

17

Pescara

38
12
9
17
48 : 55
45

18

Perugia

38
12
9
17
38 : 49
45

19

Juve Stabia

38
11
8
19
47 : 63
41

20

Livorno

38
5
6
27
30 : 67
21
P
W
D
L
Goals
Last 5
Pts

1

Benevento

19
14
4
1
39 : 9
46

2

Crotone

19
12
5
2
33 : 14
41

3

Pordenone

19
11
5
3
25 : 12
38

4

Salernitana

19
10
6
3
35 : 23
36

5

Frosinone

19
10
5
4
29 : 18
35

6

Pisa

19
10
5
4
28 : 20
35

7

Spezia

19
10
4
5
30 : 18
34

8

Chievo

19
10
4
5
29 : 18
34

9

Ascoli

19
9
5
5
29 : 24
32

10

Trapani

19
8
6
5
27 : 20
30

11

Virtus Entella

19
8
6
5
21 : 18
30

12

Juve Stabia

19
9
3
7
30 : 29
30

13

Pescara

19
7
8
4
31 : 23
29

14

Empoli

19
7
8
4
26 : 23
29

15

Cremonese

19
7
6
6
22 : 19
27

16

Perugia

19
7
5
7
19 : 19
26

17

Cittadella

19
7
4
8
23 : 26
25

18

Cosenza

19
6
5
8
21 : 22
23

19

Venezia

19
5
6
8
18 : 24
21

20

Livorno

19
3
2
14
19 : 42
11
P
W
D
L
Goals
Last 5
Pts

1

Benevento

19
12
4
3
28 : 18
40

2

Cittadella

19
10
3
6
26 : 23
33

3

Venezia

19
7
8
4
19 : 16
29

4

Crotone

19
8
3
8
30 : 26
27

5

Spezia

19
7
6
6
24 : 22
27

6

Empoli

19
7
4
8
21 : 25
25

7

Cosenza

19
6
5
8
29 : 27
23

8

Chievo

19
4
10
5
19 : 20
22

9

Cremonese

19
5
7
7
20 : 24
22

10

Pordenone

19
5
5
9
23 : 34
20

11

Pisa

19
4
7
8
21 : 25
19

12

Frosinone

19
4
7
8
12 : 20
19

13

Perugia

19
5
4
10
19 : 30
19

14

Virtus Entella

19
4
6
9
25 : 32
18

15

Salernitana

19
4
4
11
18 : 27
16

16

Pescara

19
5
1
13
17 : 32
16

17

Trapani

19
3
7
9
21 : 40
16

18

Ascoli

19
4
2
13
21 : 34
14

19

Juve Stabia

19
2
5
12
17 : 34
11

20

Livorno

19
2
4
13
11 : 25
10