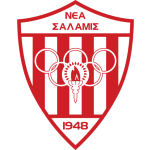 Cyprus
Nea Salamis
Coach: P. Christodoulou
Venue: N. Papas Group Ammochostos-Epistrofi
28 Oct 2020, 14:00
Nea Salamis vs Ermis
Location: TBA
Venue: TBA
Referee: TBA
Nea Salamis Full Squad
Goalkeepers
Midfielders
Defenders
Forwards
Nea Salamis Overview
What is the next fixture for Nea Salamis?
Nea Salamis is managed by P. Christodoulou and play their home games at N. Papas Group Ammochostos-Epistrofi.
Nea Salamis will play their next fixture against Ermis. Nea Salamis vs Ermis will be played on 28 Oct 2020, 14:00 at TBA. You can follow this match live on SportsPlus.Me and check the live score, statistics and match comments as it happens.
We also provide live streaming links for Nea Salamis vs Ermis, if the match will available in the official live schedule. All that information can be found on the match page.
Nea Salamis Squad for the current season is:
Goalkeepers: Tassos Anastasios Kissas, Robert Veselovsky, Andreas Dimitriou, Kypros Onisiforou
Defenders: Konstrantinos Serghiou, Breno Lorran da Silva Talvares, Thomas Nicolaou, Rolandas Baravykas, Kypros Christoforou, Pavel Čmovš, Theodoros Berios, Andreas Christou, Lefteris Hadjikonstantis, Antonis Kyriakou
Midfielders: César Nicolás Varela Batista, Andreas Lemesios, Timotheos Pavlou, Vinicius Oliveira Franco, Aloïs Confais, Marios Kouzaris, Baïssama Sankoh, Hervé Bodiong, Loukas Kalogirou, Filippos Papouis
Attackers: Adamos Andreou, Vincent Kevin Créhin, Danilo Cirino de Oliveira, Tomas Wagner, Barnes Osei, Theodosis Siathas, Iasonas Pikis, Theodoros Hadjiantonis
Read More...