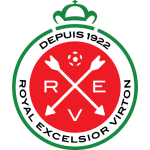 Belgium
Excelsior Virton
Coach: C. Bracconi
Venue: Stade Yvan Georges
Excelsior Virton Full Squad
Goalkeepers
Midfielders
Defenders
Forwards
Excelsior Virton Overview
What is the next fixture for Excelsior Virton?
Excelsior Virton is managed by C. Bracconi and play their home games at Stade Yvan Georges.
Excelsior Virton Squad for the current season is:
Goalkeepers: Vincent Rousseau, Geordan Dupire, Anthony Moris
Defenders: Abdoul Karim Dante, Kevin Malget, Manuel Angiulli, Guillaume François, Edisson Jordanov, Jerry Prempeh, Salimo Sylla, Fazli Kocabas, Alexandre Laurienté
Midfielders: Loïc Lapoussin, Raphaël Lecomte, Glenn Claes, Mehdi Lazaar, Mohamed Soumaré, Clement Couturier, Lucas Ribeiro Costa, Lucas Prudhomme, Stélvio Rosa da Cruz, Yannick Schaus, Anouar Kali, Loïc Besson, Valentin Guillaume, Floriano Vanzo
Attackers: Aurélien Joachim, Samir Hadji, Franck Koré, Shawn Hery, David Turpel, Alexandre Ramalingom
Read More...
First Division B 2019/2020