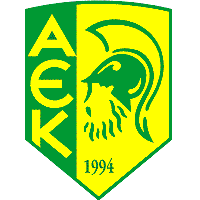 Cyprus
AEK Larnaca
Coach: David Caneda
Venue: AEK Arena - George Karapatakis
30 Oct 2020, 18:00
AEK Larnaca vs Paphos
Location: Larnaca
Venue: AEK Arena - George Karapatakis
Referee: TBA
AEK Larnaca Full Squad
Goalkeepers
Midfielders
Defenders
Forwards
AEK Larnaca Overview
What is the next fixture for AEK Larnaca?
AEK Larnaca is managed by David Caneda and play their home games at AEK Arena - George Karapatakis.
AEK Larnaca will play their next fixture against Paphos. AEK Larnaca vs Paphos will be played on 30 Oct 2020, 18:00 at AEK Arena - George Karapatakis. You can follow this match live on SportsPlus.Me and check the live score, statistics and match comments as it happens.
We also provide live streaming links for AEK Larnaca vs Paphos, if the match will available in the official live schedule. All that information can be found on the match page.
AEK Larnaca Squad for the current season is:
Goalkeepers: Andreas Christodoulou, Jens Teunckens, Antonio Miguel Ramírez Martínez, Ioakim Toumbas
Defenders: Simranjit Singh Thandi, Marios Antoniades, Joan Guillem Truyols Mascaró, José Manuel Fernández Reyes, Mikel González de Martín Martínez, Thomas Ioannou, Carles Planas Antolínez, Román Golobart Benet, Daniel Mojsov
Midfielders: Henry Bates Andreou, Abraham González Casanova, Acorán Barrera Reyes, Ignacio Cases Mora, Leontios Kalaitzis, Fernando García Puchades, Costas Anastasiou, Giorgos Naoum, Giorgos Pelekanos, Stefan Spirovski, Ivan Trichkovski, Ektoras Stefanou, Giorgos Thoma, Tom Hateley
Attackers: Matija Špoljarić, Florian Taulemesse, Dimitris Raspas, José Manuel García Naranjo, Konstantinos Konstantinou, Andreas Makris
Read More...