Lokomotiva Zagreb - Rapid Vienna
Last Update 19 Oct 2020, 15:41
Lokomotiva Zagreb vs Rapid Vienna live stream and TV broadcast
26 Aug 2020, 17:00
Lokomotiva Zagreb vs Rapid Vienna
Location: Zagreb
Venue: Stadion Kranjčevićeva
Referee: Juan Martínez Munuera
Live streaming
TV Stations
Live comments
Arena Sport (Cro)
Bet.pt
bet365
BetClic.fr
Chance
Fortuna
Fortuna PL
Fortuna SK
Nordicbet
ORF
Sport 2 (Ukr)
STS.pl
Tipsport
Tipsport SK
Winlinebet
Wplay
Data will be available at kick off time or sooner
Lokomotiva Zagreb vs Rapid Vienna Pre-Match Odds
| | Lokomotiva Zagreb | Draw | Rapid Vienna |
| --- | --- | --- | --- |
| bwin | 4.33 | 4.00 | 1.67 |
| 1xbet | 5.07 | 4.14 | 1.69 |
| WilliamHill | 4.33 | 3.75 | 1.60 |
| Ladbrokes | 4.33 | 3.60 | 1.67 |
Statistics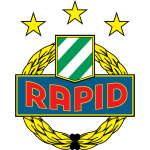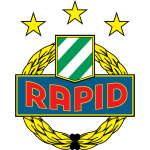 341 (78.75%)
Accurate passes
335 (79.01%)
About Lokomotiva Zagreb vs Rapid Vienna
The match will kick off at 17:00 on 26 Aug 2020, at Stadion Kranjčevićeva in Zagreb. The referee for this fixture will be Juan Martínez Munuera and the lineups for both teams will be updated a few hours before the match starts.
In their previous matches, Lokomotiva Zagreb won 0 games and lost 2 (with Šibenik, Malmö FF) while 3 games ended in draws (against Istra 1961, Osijek, Hajduk Split). Lokomotiva Zagreb managed to score 2 goals and conceded 8 goals (2-8).
Rapid Vienna won 3 matches of their last five (against St. Pölten, LASK Linz, Wolfsberger AC), lost 1 (with Arsenal) and 1 fixtures ended in draws (against Sturm Graz). The team scored 11 goals while conceding 7 (11-7).
The last direct match between Lokomotiva Zagreb and Rapid Vienna was played on 26 Aug 20 and was won by Rapid Vienna with 0-1.
Lokomotiva Zagreb vs Rapid Vienna Prediction
According to the odds, Rapid Vienna is the favourite of this match. A draw in Lokomotiva Zagreb - Rapid Vienna stands at 4.00.
All live broadcasting information can be found at the top of the page. SportsPlus.Me provides only official streaming through our partner, bet365. If the match is present in their live streaming schedule you will be able to watch it live online.
This match will be live on TV on the following stations: Arena Sport (Cro), Bet.pt, bet365, BetClic.fr. The full list of TV stations can be found at the top of the page. Of course, some matches are not televised but you can still follow them online, if live streaming is available.
Read More...
Players
Common / Attack
Passing / Duels
Defence / Goalkeeper
| | Player Name | Goals | Assists | Shots | Shots on goal | Dribbles (succ.) | Penalty won | Hit woodwork | Minutes played | Position |
| --- | --- | --- | --- | --- | --- | --- | --- | --- | --- | --- |
| | Dejan Ljubicic | 0 | 0 | 0 | 0 | 1 (1) | 0 | 0 | 90 | M |
| | Dejan Petrovič | 0 | 0 | 0 | 0 | 0 (0) | 0 | 0 | 90 | M |
| | Denis Kolinger | 0 | 0 | 1 | 0 | 1 (1) | 0 | 0 | 90 | D |
| | Dino Halilović | 0 | 0 | 0 | 0 | 0 (0) | 0 | 0 | 90 | M |
| | Ercan Kara | 1 | 0 | 2 | 2 | 1 (1) | 0 | 0 | 90 | A |
| | Filip Stojković | 0 | 0 | 0 | 0 | 0 (0) | 0 | 0 | 90 | D |
| | Fran Karačić | 0 | 0 | 1 | 0 | 1 (0) | 0 | 0 | 90 | D |
| | Indrit Tuci | 0 | 0 | 0 | 0 | 2 (0) | 0 | 0 | 46 | A |
| | Ivan Čeliković | 0 | 0 | 1 | 0 | 2 (1) | 0 | 0 | 90 | D |
| | Jorge Sammir Cruz Campos | 0 | 0 | 0 | 0 | 0 (0) | 0 | 0 | 44 | M |
| | Kelvin Arase | 0 | 1 | 1 | 1 | 0 (0) | 0 | 0 | 75 | M |
| | Kemal Osmanković | 0 | 0 | 0 | 0 | 0 (0) | 0 | 0 | 90 | D |
| | Koya Kitagawa | 0 | 0 | 0 | 0 | 0 (0) | 0 | 0 | 4 | A |
| | Krunoslav Hendija | 0 | 0 | 0 | 0 | 0 (0) | 0 | 0 | 90 | G |
| | Leo Greiml | 0 | 0 | 0 | 0 | 0 (0) | 0 | 0 | 90 | D |
| | Mario Budimir | 0 | 0 | 0 | 0 | 1 (0) | 0 | 0 | 29 | A |
| | Mario Ćuže | 0 | 0 | 0 | 0 | 3 (2) | 0 | 0 | 90 | A |
| | Marko Gjira | 0 | 0 | 2 | 1 | 8 (6) | 0 | 0 | 90 | M |
| | Maximilian Hofmann | 0 | 0 | 0 | 0 | 0 (0) | 0 | 0 | 90 | D |
| | Maximilian Ullmann | 0 | 0 | 4 | 2 | 1 (1) | 0 | 0 | 90 | D |
| | Oliver Petrak | 0 | 0 | 0 | 0 | 0 (0) | 0 | 0 | 71 | M |
| | Richard Strebinger | 0 | 0 | 0 | 0 | 0 (0) | 0 | 0 | 90 | G |
| | Sherif Kallaku | 0 | 0 | 0 | 0 | 0 (0) | 0 | 0 | 19 | M |
| | Srđan Grahovac | 0 | 0 | 0 | 0 | 0 (0) | 0 | 0 | 26 | M |
| | Stipo Marković | 0 | 0 | 0 | 0 | 0 (0) | 0 | 0 | 61 | D |
| | Taxiarchis Fountas | 0 | 0 | 4 | 2 | 2 (2) | 0 | 0 | 86 | M |
| | Thomas Murg | 0 | 0 | 1 | 1 | 1 (0) | 0 | 0 | 64 | M |
| | Thorsten Schick | 0 | 0 | 0 | 0 | 0 (0) | 0 | 0 | 15 | M |
| | Player Name | Passes | Key passes | Crosses (acc.) | Duels (won) | Dispossessed | Was fouled | Fouls commited |
| --- | --- | --- | --- | --- | --- | --- | --- | --- |
| | Dejan Ljubicic | 45 | 0 | 0 (0) | 6 (3) | 0 | 1 | 2 |
| | Dejan Petrovič | 56 | 0 | 0 (0) | 7 (1) | 0 | 1 | 1 |
| | Denis Kolinger | 46 | 1 | 0 (0) | 16 (9) | 0 | 2 | 5 |
| | Dino Halilović | 45 | 0 | 0 (0) | 6 (1) | 0 | 1 | 1 |
| | Ercan Kara | 20 | 0 | 0 (0) | 21 (9) | 0 | 3 | 4 |
| | Filip Stojković | 45 | 0 | 2 (0) | 11 (6) | 0 | 2 | 1 |
| | Fran Karačić | 38 | 0 | 5 (0) | 5 (1) | 0 | 1 | 1 |
| | Indrit Tuci | 10 | 0 | 0 (0) | 8 (2) | 0 | 0 | 1 |
| | Ivan Čeliković | 31 | 0 | 4 (0) | 8 (4) | 0 | 1 | 1 |
| | Jorge Sammir Cruz Campos | 14 | 1 | 1 (1) | 5 (3) | 0 | 3 | 2 |
| | Kelvin Arase | 14 | 2 | 2 (0) | 6 (4) | 0 | 0 | 0 |
| | Kemal Osmanković | 45 | 0 | 0 (0) | 8 (3) | 0 | 0 | 0 |
| | Koya Kitagawa | 3 | 0 | 0 (0) | 0 (0) | 0 | 0 | 0 |
| | Krunoslav Hendija | 33 | 0 | 0 (0) | 1 (1) | 0 | 0 | 0 |
| | Leo Greiml | 74 | 0 | 0 (0) | 12 (4) | 0 | 0 | 4 |
| | Mario Budimir | 9 | 1 | 0 (0) | 6 (2) | 0 | 0 | 0 |
| | Mario Ćuže | 30 | 0 | 0 (0) | 11 (8) | 0 | 3 | 2 |
| | Marko Gjira | 43 | 0 | 1 (1) | 12 (8) | 0 | 2 | 1 |
| | Maximilian Hofmann | 58 | 0 | 0 (0) | 6 (3) | 0 | 0 | 2 |
| | Maximilian Ullmann | 27 | 0 | 1 (0) | 10 (4) | 0 | 0 | 2 |
| | Oliver Petrak | 41 | 0 | 0 (0) | 9 (8) | 0 | 5 | 0 |
| | Richard Strebinger | 30 | 0 | 0 (0) | 1 (1) | 0 | 0 | 0 |
| | Sherif Kallaku | 14 | 0 | 1 (0) | 3 (1) | 0 | 0 | 1 |
| | Srđan Grahovac | 8 | 0 | 1 (0) | 2 (2) | 0 | 2 | 0 |
| | Stipo Marković | 33 | 0 | 0 (0) | 2 (1) | 0 | 0 | 0 |
| | Taxiarchis Fountas | 18 | 0 | 5 (0) | 11 (8) | 0 | 3 | 1 |
| | Thomas Murg | 23 | 2 | 7 (1) | 5 (2) | 0 | 1 | 1 |
| | Thorsten Schick | 3 | 1 | 1 (1) | 2 (1) | 0 | 1 | 1 |
| | Player Name | Clearances | Blocked shots | Interceptions | Tackles | Dribbles past | Penalty committed | Saves | Saves inside box |
| --- | --- | --- | --- | --- | --- | --- | --- | --- | --- |
| | Dejan Ljubicic | 0 | 0 | 0 | 0 | 0 | 0 | 0 | 0 |
| | Dejan Petrovič | 0 | 0 | 1 | 0 | 0 | 0 | 0 | 0 |
| | Denis Kolinger | 0 | 3 | 0 | 0 | 0 | 0 | 0 | 0 |
| | Dino Halilović | 0 | 0 | 1 | 0 | 0 | 0 | 0 | 0 |
| | Ercan Kara | 0 | 0 | 0 | 0 | 0 | 0 | 0 | 0 |
| | Filip Stojković | 0 | 0 | 1 | 2 | 0 | 0 | 0 | 0 |
| | Fran Karačić | 0 | 0 | 1 | 0 | 0 | 0 | 0 | 0 |
| | Indrit Tuci | 0 | 0 | 0 | 0 | 0 | 0 | 0 | 0 |
| | Ivan Čeliković | 0 | 0 | 1 | 1 | 0 | 0 | 0 | 0 |
| | Jorge Sammir Cruz Campos | 0 | 0 | 1 | 0 | 0 | 0 | 0 | 0 |
| | Kelvin Arase | 0 | 0 | 1 | 4 | 0 | 0 | 0 | 0 |
| | Kemal Osmanković | 0 | 1 | 3 | 0 | 0 | 0 | 0 | 0 |
| | Koya Kitagawa | 0 | 0 | 0 | 0 | 0 | 0 | 0 | 0 |
| | Krunoslav Hendija | 0 | 0 | 0 | 0 | 0 | 0 | 5 | 4 |
| | Leo Greiml | 0 | 0 | 0 | 0 | 0 | 0 | 0 | 0 |
| | Mario Budimir | 0 | 0 | 0 | 0 | 0 | 0 | 0 | 0 |
| | Mario Ćuže | 0 | 0 | 0 | 0 | 0 | 0 | 0 | 0 |
| | Marko Gjira | 0 | 0 | 1 | 0 | 0 | 0 | 0 | 0 |
| | Maximilian Hofmann | 0 | 0 | 0 | 1 | 0 | 0 | 0 | 0 |
| | Maximilian Ullmann | 0 | 0 | 0 | 3 | 0 | 0 | 0 | 0 |
| | Oliver Petrak | 0 | 0 | 1 | 2 | 0 | 0 | 0 | 0 |
| | Richard Strebinger | 0 | 0 | 0 | 1 | 0 | 0 | 1 | 0 |
| | Sherif Kallaku | 0 | 0 | 0 | 1 | 0 | 0 | 0 | 0 |
| | Srđan Grahovac | 0 | 0 | 2 | 0 | 0 | 0 | 0 | 0 |
| | Stipo Marković | 0 | 0 | 0 | 1 | 0 | 0 | 0 | 0 |
| | Taxiarchis Fountas | 0 | 0 | 0 | 2 | 0 | 0 | 0 | 0 |
| | Thomas Murg | 0 | 0 | 0 | 1 | 0 | 0 | 0 | 0 |
| | Thorsten Schick | 0 | 0 | 0 | 0 | 0 | 0 | 0 | 0 |