Teuta Durrës - Granada
Last Update 21 Oct 2020, 11:03
Teuta Durrës vs Granada live stream and TV broadcast
17 Sep 2020, 14:00
Teuta Durrës vs Granada
Location: Durrës
Venue: Stadiumi Niko Dovana
Referee: Willy Delajod
Live streaming
TV Stations
Live comments
Data will be available at kick off time or sooner
Teuta Durrës vs Granada Pre-Match Odds
| | Teuta Durrës | Draw | Granada |
| --- | --- | --- | --- |
| bwin | 10.00 | 5.75 | 1.19 |
| 1xbet | 13.00 | 6.35 | 1.20 |
| Ladbrokes | 17.00 | 6.00 | 1.20 |
| Bet-At-Home | 14.00 | 5.80 | 1.15 |
Statistics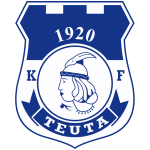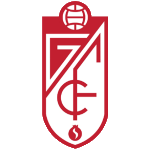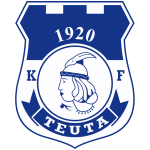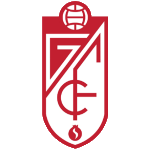 About Teuta Durrës vs Granada
The match will kick off at 14:00 on 17 Sep 2020, at Stadiumi Niko Dovana in Durrës. The referee for this fixture will be Willy Delajod and the lineups for both teams will be updated a few hours before the match starts.
In their previous matches, Teuta Durrës won 2 games (Ventspils, Beitar Jerusalem) and lost 1 (with Ventspils) while 0 games ended in draws . Teuta Durrës managed to score 3 goals and conceded 3 goals (3-3).
Granada won 3 matches of their last five (against Lokomotivi Tbilisi, Malmö FF, Sevilla), lost 1 (with Atlético Madrid) and 1 fixtures ended in draws (against Cádiz). The team scored 8 goals while conceding 8 (8-8).
The last direct match between Teuta Durrës and Granada was played on 17 Sep 20 and was won by Granada with 0-4.
Teuta Durrës vs Granada Prediction
According to the odds, Granada is the favourite of this match. A draw in Teuta Durrës - Granada stands at 5.75.
All live broadcasting information can be found at the top of the page. SportsPlus.Me provides only official streaming through our partner, bet365. If the match is present in their live streaming schedule you will be able to watch it live online.
This match will be live on TV on the following stations: BetClic.frSport 2 (Cze), . The full list of TV stations can be found at the top of the page. Of course, some matches are not televised but you can still follow them online, if live streaming is available.
Read More...
Players
Common / Attack
Passing / Duels
Defence / Goalkeeper
| | Player Name | Goals | Assists | Shots | Shots on goal | Dribbles (succ.) | Penalty won | Hit woodwork | Minutes played | Position |
| --- | --- | --- | --- | --- | --- | --- | --- | --- | --- | --- |
| | Albano Aleksi | 0 | 0 | 0 | 0 | 0 (0) | 0 | 0 | 90 | M |
| | Alexandros Kouros | 0 | 0 | 0 | 0 | 0 (0) | 0 | 0 | 90 | D |
| | Blerim Krasniqi | 0 | 0 | 0 | 0 | 0 (0) | 0 | 0 | 68 | A |
| | Carlos Neva Tey | 0 | 0 | 0 | 0 | 0 (0) | 0 | 0 | 90 | D |
| | Domingos Sousa Coutinho Meneses Duarte | 0 | 0 | 0 | 0 | 0 (0) | 0 | 0 | 46 | D |
| | Emiljano Vila | 0 | 0 | 0 | 0 | 0 (0) | 0 | 0 | 90 | M |
| | Fabjan Beqja | 0 | 0 | 0 | 0 | 0 (0) | 0 | 0 | 80 | M |
| | Federico Vico Villegas | 0 | 0 | 0 | 0 | 0 (0) | 0 | 0 | 32 | M |
| | Florent Avdyli | 0 | 0 | 0 | 0 | 0 (0) | 0 | 0 | 56 | M |
| | Germán Sánchez Barahona | 0 | 0 | 0 | 0 | 0 (0) | 0 | 0 | 90 | D |
| | Ildi Gruda | 0 | 0 | 0 | 0 | 0 (0) | 0 | 0 | 44 | A |
| | Jesús Vallejo Lázaro | 0 | 0 | 0 | 0 | 0 (0) | 0 | 0 | 44 | D |
| | Jorge Molina Vidal | 0 | 1 | 0 | 0 | 0 (0) | 0 | 0 | 44 | A |
| | José Antonio Rodríguez Díaz | 0 | 0 | 0 | 0 | 0 (0) | 0 | 0 | 90 | M |
| | Ledio Beqja | 0 | 0 | 0 | 0 | 0 (0) | 0 | 0 | 22 | M |
| | Lorenco Vila | 0 | 0 | 0 | 0 | 0 (0) | 0 | 0 | 90 | A |
| | Maxime Gonalons | 0 | 0 | 0 | 0 | 0 (0) | 0 | 0 | 90 | M |
| | Renato Arapi | 0 | 0 | 0 | 0 | 0 (0) | 0 | 0 | 90 | D |
| | Robert Kenedy Nunes do Nascimento | 1 | 2 | 0 | 0 | 0 (0) | 0 | 0 | 90 | M |
| | Roberto Soldado Rillo | 1 | 1 | 0 | 0 | 0 (0) | 0 | 0 | 46 | A |
| | Rubin Hebaj | 0 | 0 | 0 | 0 | 0 (0) | 0 | 0 | 34 | A |
| | Rui Tiago Dantas da Silva | 0 | 0 | 0 | 0 | 0 (0) | 0 | 0 | 90 | G |
| | Rustem Hoxha | 0 | 0 | 0 | 0 | 0 (0) | 0 | 0 | 90 | D |
| | Stivi Frashëri | 0 | 0 | 0 | 0 | 0 (0) | 0 | 0 | 90 | G |
| | Víctor David Díaz Miguel | 0 | 0 | 0 | 0 | 0 (0) | 0 | 0 | 90 | D |
| | Yangel Clemente Herrera Ravelo | 2 | 0 | 0 | 0 | 0 (0) | 0 | 0 | 90 | M |
| | Ángel Montoro Sánchez | 0 | 0 | 0 | 0 | 0 (0) | 0 | 0 | 58 | M |
| | Player Name | Passes | Key passes | Crosses (acc.) | Duels (won) | Dispossessed | Was fouled | Fouls commited |
| --- | --- | --- | --- | --- | --- | --- | --- | --- |
| | Albano Aleksi | 0 | 0 | 0 (0) | 0 (0) | 0 | 0 | 0 |
| | Alexandros Kouros | 0 | 0 | 0 (0) | 0 (0) | 0 | 0 | 0 |
| | Blerim Krasniqi | 0 | 0 | 0 (0) | 0 (0) | 0 | 0 | 0 |
| | Carlos Neva Tey | 0 | 0 | 0 (0) | 0 (0) | 0 | 0 | 0 |
| | Domingos Sousa Coutinho Meneses Duarte | 0 | 0 | 0 (0) | 0 (0) | 0 | 0 | 0 |
| | Emiljano Vila | 0 | 0 | 0 (0) | 0 (0) | 0 | 0 | 0 |
| | Fabjan Beqja | 0 | 0 | 0 (0) | 0 (0) | 0 | 0 | 0 |
| | Federico Vico Villegas | 0 | 0 | 0 (0) | 0 (0) | 0 | 0 | 0 |
| | Florent Avdyli | 0 | 0 | 0 (0) | 0 (0) | 0 | 0 | 0 |
| | Germán Sánchez Barahona | 0 | 0 | 0 (0) | 0 (0) | 0 | 0 | 0 |
| | Ildi Gruda | 0 | 0 | 0 (0) | 0 (0) | 0 | 0 | 0 |
| | Jesús Vallejo Lázaro | 0 | 0 | 0 (0) | 0 (0) | 0 | 0 | 0 |
| | Jorge Molina Vidal | 0 | 0 | 0 (0) | 0 (0) | 0 | 0 | 0 |
| | José Antonio Rodríguez Díaz | 0 | 0 | 0 (0) | 0 (0) | 0 | 0 | 0 |
| | Ledio Beqja | 0 | 0 | 0 (0) | 0 (0) | 0 | 0 | 0 |
| | Lorenco Vila | 0 | 0 | 0 (0) | 0 (0) | 0 | 0 | 0 |
| | Maxime Gonalons | 0 | 0 | 0 (0) | 0 (0) | 0 | 0 | 0 |
| | Renato Arapi | 0 | 0 | 0 (0) | 0 (0) | 0 | 0 | 0 |
| | Robert Kenedy Nunes do Nascimento | 0 | 0 | 0 (0) | 0 (0) | 0 | 0 | 0 |
| | Roberto Soldado Rillo | 0 | 0 | 0 (0) | 0 (0) | 0 | 0 | 0 |
| | Rubin Hebaj | 0 | 0 | 0 (0) | 0 (0) | 0 | 0 | 0 |
| | Rui Tiago Dantas da Silva | 0 | 0 | 0 (0) | 0 (0) | 0 | 0 | 0 |
| | Rustem Hoxha | 0 | 0 | 0 (0) | 0 (0) | 0 | 0 | 0 |
| | Stivi Frashëri | 0 | 0 | 0 (0) | 0 (0) | 0 | 0 | 0 |
| | Víctor David Díaz Miguel | 0 | 0 | 0 (0) | 0 (0) | 0 | 0 | 0 |
| | Yangel Clemente Herrera Ravelo | 0 | 0 | 0 (0) | 0 (0) | 0 | 0 | 0 |
| | Ángel Montoro Sánchez | 0 | 0 | 0 (0) | 0 (0) | 0 | 0 | 0 |
| | Player Name | Clearances | Blocked shots | Interceptions | Tackles | Dribbles past | Penalty committed | Saves | Saves inside box |
| --- | --- | --- | --- | --- | --- | --- | --- | --- | --- |
| | Albano Aleksi | 0 | 0 | 0 | 0 | 0 | 0 | 0 | 0 |
| | Alexandros Kouros | 0 | 0 | 0 | 0 | 0 | 0 | 0 | 0 |
| | Blerim Krasniqi | 0 | 0 | 0 | 0 | 0 | 0 | 0 | 0 |
| | Carlos Neva Tey | 0 | 0 | 0 | 0 | 0 | 0 | 0 | 0 |
| | Domingos Sousa Coutinho Meneses Duarte | 0 | 0 | 0 | 0 | 0 | 0 | 0 | 0 |
| | Emiljano Vila | 0 | 0 | 0 | 0 | 0 | 0 | 0 | 0 |
| | Fabjan Beqja | 0 | 0 | 0 | 0 | 0 | 0 | 0 | 0 |
| | Federico Vico Villegas | 0 | 0 | 0 | 0 | 0 | 0 | 0 | 0 |
| | Florent Avdyli | 0 | 0 | 0 | 0 | 0 | 0 | 0 | 0 |
| | Germán Sánchez Barahona | 0 | 0 | 0 | 0 | 0 | 0 | 0 | 0 |
| | Ildi Gruda | 0 | 0 | 0 | 0 | 0 | 0 | 0 | 0 |
| | Jesús Vallejo Lázaro | 0 | 0 | 0 | 0 | 0 | 0 | 0 | 0 |
| | Jorge Molina Vidal | 0 | 0 | 0 | 0 | 0 | 0 | 0 | 0 |
| | José Antonio Rodríguez Díaz | 0 | 0 | 0 | 0 | 0 | 0 | 0 | 0 |
| | Ledio Beqja | 0 | 0 | 0 | 0 | 0 | 0 | 0 | 0 |
| | Lorenco Vila | 0 | 0 | 0 | 0 | 0 | 0 | 0 | 0 |
| | Maxime Gonalons | 0 | 0 | 0 | 0 | 0 | 0 | 0 | 0 |
| | Renato Arapi | 0 | 0 | 0 | 0 | 0 | 0 | 0 | 0 |
| | Robert Kenedy Nunes do Nascimento | 0 | 0 | 0 | 0 | 0 | 0 | 0 | 0 |
| | Roberto Soldado Rillo | 0 | 0 | 0 | 0 | 0 | 0 | 0 | 0 |
| | Rubin Hebaj | 0 | 0 | 0 | 0 | 0 | 0 | 0 | 0 |
| | Rui Tiago Dantas da Silva | 0 | 0 | 0 | 0 | 0 | 0 | 0 | 0 |
| | Rustem Hoxha | 0 | 0 | 0 | 0 | 0 | 0 | 0 | 0 |
| | Stivi Frashëri | 0 | 0 | 0 | 0 | 0 | 0 | 0 | 0 |
| | Víctor David Díaz Miguel | 0 | 0 | 0 | 0 | 0 | 0 | 0 | 0 |
| | Yangel Clemente Herrera Ravelo | 0 | 0 | 0 | 0 | 0 | 0 | 0 | 0 |
| | Ángel Montoro Sánchez | 0 | 0 | 0 | 0 | 0 | 0 | 0 | 0 |