Trakai - Derry City
Last Update 21 Oct 2020, 09:43
Trakai vs Derry City live stream and TV broadcast
25 Aug 2020, 16:00
Trakai vs Derry City
Location: Vilnius
Venue: Vilniaus LFF stadionas
Referee: Ville Nevalainen
Live streaming
TV Stations
Live comments
bet365
bwin
Chance
Fortuna
Fortuna PL
Fortuna SK
STS.pl
Tipsport
Tipsport SK
Winlinebet
Data will be available at kick off time or sooner
Trakai vs Derry City Pre-Match Odds
| | Trakai | Draw | Derry City |
| --- | --- | --- | --- |
| Ladbrokes | 2.65 | 2.80 | 2.55 |
| WilliamHill | 2.70 | 2.90 | 2.60 |
| bwin | 2.70 | 3.00 | 2.50 |
| Bet-At-Home | 2.65 | 2.85 | 2.60 |
| 1xbet | 2.88 | 3.09 | 2.78 |
Statistics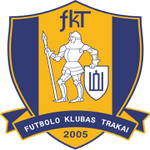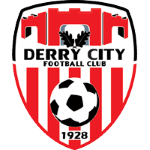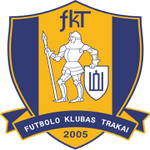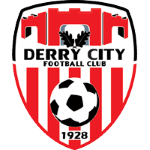 About Trakai vs Derry City
The match will kick off at 16:00 on 25 Aug 2020, at Vilniaus LFF stadionas in Vilnius. The referee for this fixture will be Ville Nevalainen and the lineups for both teams will be updated a few hours before the match starts.
In their previous matches, Trakai won 0 games and lost 1 (with Slovan Liberec) while 2 games ended in draws (against KÍKÍ). Trakai managed to score 2 goals and conceded 6 goals (2-6).
Derry City won 1 matches of their last five (against Waterford United), lost 3 (with Bohemians, Sligo Rovers, Dundalk) and 1 fixtures ended in draws (against St Patrick's). The team scored 4 goals while conceding 5 (4-5).
The last direct match between Trakai and Derry City was played on 25 Aug 20 and was won by Trakai with 3-2.
Trakai vs Derry City Prediction
It is really hard to predict the winner of this game based on odds. A win for Trakai stands at 2.65, while a Derry City win is valued at 2.55. The odds for a draw in this match are 2.80.
All live broadcasting information can be found at the top of the page. SportsPlus.Me provides only official streaming through our partner, bet365. If the match is present in their live streaming schedule you will be able to watch it live online.
This match will be live on TV on the following stations: bet365, bwin, Chance, Fortuna. The full list of TV stations can be found at the top of the page. Of course, some matches are not televised but you can still follow them online, if live streaming is available.
Read More...
Players
Common / Attack
Passing / Duels
Defence / Goalkeeper
| | Player Name | Goals | Assists | Shots | Shots on goal | Dribbles (succ.) | Penalty won | Hit woodwork | Minutes played | Position |
| --- | --- | --- | --- | --- | --- | --- | --- | --- | --- | --- |
| | Adam Hammill | 0 | 1 | 0 | 0 | 0 (0) | 0 | 0 | 90 | M |
| | Akseli Kalermo | 0 | 0 | 0 | 0 | 0 (0) | 0 | 0 | 90 | D |
| | Ciaron Harkin | 0 | 0 | 0 | 0 | 0 (0) | 0 | 0 | 5 | M |
| | Ciarán Coll | 0 | 0 | 0 | 0 | 0 (0) | 0 | 0 | 90 | D |
| | Colm Horgan | 0 | 0 | 0 | 0 | 0 (0) | 0 | 0 | 90 | D |
| | Conor Clifford | 0 | 0 | 0 | 0 | 0 (0) | 0 | 0 | 39 | M |
| | Conor McCormack | 0 | 0 | 0 | 0 | 0 (0) | 0 | 0 | 90 | M |
| | Darren Cole | 0 | 0 | 0 | 0 | 0 (0) | 0 | 0 | 90 | D |
| | Deividas Malžinskas | 0 | 0 | 0 | 0 | 0 (0) | 0 | 0 | 90 | D |
| | Dominyk Kodz | 0 | 0 | 0 | 0 | 0 (0) | 0 | 0 | 14 | A |
| | Dominykas Barauskas | 0 | 0 | 0 | 0 | 0 (0) | 0 | 0 | 90 | D |
| | Donatas Kazlauskas | 1 | 1 | 0 | 0 | 0 (0) | 0 | 0 | 90 | M |
| | Eoin Toal | 1 | 0 | 0 | 0 | 0 (0) | 0 | 0 | 90 | D |
| | Gytis Paulauskas | 2 | 0 | 0 | 0 | 0 (0) | 0 | 0 | 90 | A |
| | Ibrahim Meite | 0 | 1 | 0 | 0 | 0 (0) | 0 | 0 | 85 | A |
| | Jake Dunwoody | 0 | 0 | 0 | 0 | 0 (0) | 0 | 0 | 56 | M |
| | James Akintunde | 0 | 0 | 0 | 0 | 0 (0) | 0 | 0 | 90 | A |
| | Joseph Thomson | 1 | 0 | 0 | 0 | 0 (0) | 0 | 0 | 73 | M |
| | Lajo Menene Traore | 0 | 0 | 0 | 0 | 0 (0) | 0 | 0 | 76 | A |
| | Matas Ramanauskas | 0 | 0 | 0 | 0 | 0 (0) | 0 | 0 | 2 | M |
| | Mindaugas Grigaravičius | 0 | 1 | 0 | 0 | 0 (0) | 0 | 0 | 90 | M |
| | Peter Cherrie | 0 | 0 | 0 | 0 | 0 (0) | 0 | 0 | 90 | G |
| | Ričardas Šveikauskas | 0 | 0 | 0 | 0 | 0 (0) | 0 | 0 | 90 | D |
| | Stephen Mallon | 0 | 0 | 0 | 0 | 0 (0) | 0 | 0 | 34 | M |
| | Tadas Simaitis | 0 | 0 | 0 | 0 | 0 (0) | 0 | 0 | 90 | G |
| | Tomas Dombrauskis | 0 | 0 | 0 | 0 | 0 (0) | 0 | 0 | 88 | M |
| | Ángel Ronniel Lezama Arteaga | 0 | 1 | 0 | 0 | 0 (0) | 0 | 0 | 90 | M |
| | Player Name | Passes | Key passes | Crosses (acc.) | Duels (won) | Dispossessed | Was fouled | Fouls commited |
| --- | --- | --- | --- | --- | --- | --- | --- | --- |
| | Adam Hammill | 0 | 0 | 0 (0) | 0 (0) | 0 | 0 | 0 |
| | Akseli Kalermo | 0 | 0 | 0 (0) | 0 (0) | 0 | 0 | 0 |
| | Ciaron Harkin | 0 | 0 | 0 (0) | 0 (0) | 0 | 0 | 0 |
| | Ciarán Coll | 0 | 0 | 0 (0) | 0 (0) | 0 | 0 | 0 |
| | Colm Horgan | 0 | 0 | 0 (0) | 0 (0) | 0 | 0 | 0 |
| | Conor Clifford | 0 | 0 | 0 (0) | 0 (0) | 0 | 0 | 0 |
| | Conor McCormack | 0 | 0 | 0 (0) | 0 (0) | 0 | 0 | 0 |
| | Darren Cole | 0 | 0 | 0 (0) | 0 (0) | 0 | 0 | 0 |
| | Deividas Malžinskas | 0 | 0 | 0 (0) | 0 (0) | 0 | 0 | 0 |
| | Dominyk Kodz | 0 | 0 | 0 (0) | 0 (0) | 0 | 0 | 0 |
| | Dominykas Barauskas | 0 | 0 | 0 (0) | 0 (0) | 0 | 0 | 0 |
| | Donatas Kazlauskas | 0 | 0 | 0 (0) | 0 (0) | 0 | 0 | 0 |
| | Eoin Toal | 0 | 0 | 0 (0) | 0 (0) | 0 | 0 | 0 |
| | Gytis Paulauskas | 0 | 0 | 0 (0) | 0 (0) | 0 | 0 | 0 |
| | Ibrahim Meite | 0 | 0 | 0 (0) | 0 (0) | 0 | 0 | 0 |
| | Jake Dunwoody | 0 | 0 | 0 (0) | 0 (0) | 0 | 0 | 0 |
| | James Akintunde | 0 | 0 | 0 (0) | 0 (0) | 0 | 0 | 0 |
| | Joseph Thomson | 0 | 0 | 0 (0) | 0 (0) | 0 | 0 | 0 |
| | Lajo Menene Traore | 0 | 0 | 0 (0) | 0 (0) | 0 | 0 | 0 |
| | Matas Ramanauskas | 0 | 0 | 0 (0) | 0 (0) | 0 | 0 | 0 |
| | Mindaugas Grigaravičius | 0 | 0 | 0 (0) | 0 (0) | 0 | 0 | 0 |
| | Peter Cherrie | 0 | 0 | 0 (0) | 0 (0) | 0 | 0 | 0 |
| | Ričardas Šveikauskas | 0 | 0 | 0 (0) | 0 (0) | 0 | 0 | 0 |
| | Stephen Mallon | 0 | 0 | 0 (0) | 0 (0) | 0 | 0 | 0 |
| | Tadas Simaitis | 0 | 0 | 0 (0) | 0 (0) | 0 | 0 | 0 |
| | Tomas Dombrauskis | 0 | 0 | 0 (0) | 0 (0) | 0 | 0 | 0 |
| | Ángel Ronniel Lezama Arteaga | 0 | 0 | 0 (0) | 0 (0) | 0 | 0 | 0 |
| | Player Name | Clearances | Blocked shots | Interceptions | Tackles | Dribbles past | Penalty committed | Saves | Saves inside box |
| --- | --- | --- | --- | --- | --- | --- | --- | --- | --- |
| | Adam Hammill | 0 | 0 | 0 | 0 | 0 | 0 | 0 | 0 |
| | Akseli Kalermo | 0 | 0 | 0 | 0 | 0 | 0 | 0 | 0 |
| | Ciaron Harkin | 0 | 0 | 0 | 0 | 0 | 0 | 0 | 0 |
| | Ciarán Coll | 0 | 0 | 0 | 0 | 0 | 0 | 0 | 0 |
| | Colm Horgan | 0 | 0 | 0 | 0 | 0 | 0 | 0 | 0 |
| | Conor Clifford | 0 | 0 | 0 | 0 | 0 | 0 | 0 | 0 |
| | Conor McCormack | 0 | 0 | 0 | 0 | 0 | 0 | 0 | 0 |
| | Darren Cole | 0 | 0 | 0 | 0 | 0 | 0 | 0 | 0 |
| | Deividas Malžinskas | 0 | 0 | 0 | 0 | 0 | 0 | 0 | 0 |
| | Dominyk Kodz | 0 | 0 | 0 | 0 | 0 | 0 | 0 | 0 |
| | Dominykas Barauskas | 0 | 0 | 0 | 0 | 0 | 0 | 0 | 0 |
| | Donatas Kazlauskas | 0 | 0 | 0 | 0 | 0 | 0 | 0 | 0 |
| | Eoin Toal | 0 | 0 | 0 | 0 | 0 | 0 | 0 | 0 |
| | Gytis Paulauskas | 0 | 0 | 0 | 0 | 0 | 0 | 0 | 0 |
| | Ibrahim Meite | 0 | 0 | 0 | 0 | 0 | 0 | 0 | 0 |
| | Jake Dunwoody | 0 | 0 | 0 | 0 | 0 | 0 | 0 | 0 |
| | James Akintunde | 0 | 0 | 0 | 0 | 0 | 0 | 0 | 0 |
| | Joseph Thomson | 0 | 0 | 0 | 0 | 0 | 0 | 0 | 0 |
| | Lajo Menene Traore | 0 | 0 | 0 | 0 | 0 | 0 | 0 | 0 |
| | Matas Ramanauskas | 0 | 0 | 0 | 0 | 0 | 0 | 0 | 0 |
| | Mindaugas Grigaravičius | 0 | 0 | 0 | 0 | 0 | 0 | 0 | 0 |
| | Peter Cherrie | 0 | 0 | 0 | 0 | 0 | 0 | 0 | 0 |
| | Ričardas Šveikauskas | 0 | 0 | 0 | 0 | 0 | 0 | 0 | 0 |
| | Stephen Mallon | 0 | 0 | 0 | 0 | 0 | 0 | 0 | 0 |
| | Tadas Simaitis | 0 | 0 | 0 | 0 | 0 | 0 | 0 | 0 |
| | Tomas Dombrauskis | 0 | 0 | 0 | 0 | 0 | 0 | 0 | 0 |
| | Ángel Ronniel Lezama Arteaga | 0 | 0 | 0 | 0 | 0 | 0 | 0 | 0 |